For concerns with air quality in Bloomfield Hills, MI and surrounding areas, call on the professionals from Sun Heating & Cooling. We provide expert and complete residential and commercial service, targeting a strategy for your specific requirements. With 41 years of experience, we recognize there are no generic solutions. Through cutting-edge technology and a personalized approach, we pinpoint issues and recommend the most direct and cost-effective method of improvement.
Efficient Indoor Air Quality Services
Sun Heating & Cooling specializes in a wide range of proven products and services, certain to meet your needs. Accommodating all types of heating and cooling systems, we implement whole-home options, which operate quietly, require minimal upkeep, and deliver sustainable benefits. From issues with insufficient or excessive moisture to microbial growth and airborne contaminants, Sun Heating & Cooling is here to help. Contact us at (248) 986-1506 for quick response, dedicated service, honest answers, and unmatched quality across Bloomfield Hills, Birmingham, West Bloomfield, Auburn Hills, Troy, and Waterford, MI.
Sun offers numerous, sophisticated air quality options, including:
Humidifiers – Introducing necessary moisture to heated, dry air improves comfort, allowing lower thermostat settings, without impacting comfort. Whole-home humidification also alleviates issues with dry skin, chapped lips, static shock, greater vulnerability to respiratory infection, and potential damage to wood furnishings.
Dehumidifiers – Combating excess moisture eliminates that unpleasant sticky feeling, avoids overcooling, and reduces the workload of the air conditioner. The Humiditrol® system maintains optimum moisture levels, protecting against mold, mildew, and bacterial growth, while trimming monthly energy bills.
Germicidal Lights – Taking advantage of maximum-intensity ultraviolet light, germicidal lamps defend against the growth of microorganisms such as mold, mildew, and bacteria within the air conditioner, promoting greater efficiency, cooling capacity, lifespan, and reliability. And you'll save money while enjoying a cleaner, healthier, and more pleasant living or working environment.
iWave Air
iWave is an air purifying device that installs in any duct air conditioning system. When air passes over the iWave, ions produced by the device reduce pathogens, allergens, particles, smoke and odors in the air, creating a healthy environment without producing any harmful byproducts.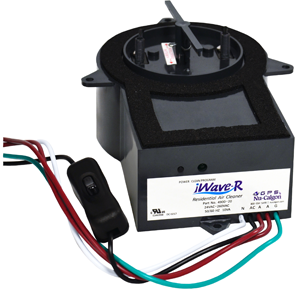 iWave uses patented technology, called needle-point bi-polar ionization, to create equal amounts of positive and negative ions. When these ions are injected into the air stream, they break down passing pollutants and gases into harmless compounds like oxygen, carbon dioxide, nitrogen and water vapor (see illustration below).
When the ions come in contact with viruses, bacteria or mold, they remove the hydrogen molecules – without them, the pathogens have no source of energy and will die. The ions also attach to allergens like pollen and other particles, causing them to band together until they are large enough to be caught by your ventilation system's air filter.
iWave's technology generates the same ions that nature creates with lightening, waterfalls, ocean waves, etc. Nature uses energy and shear to break apart molecules, naturally cleaning the air and producing a healthy environment. The only difference between the iWave's technology and nature is that the iWave does it without developing harmful ozone.
iWave Advantage
You'll find iWave's advanced technology provides the most effective air purification method. Other common air purification technologies require ongoing maintenance with bulb/cell replacement every year or two, making the cost of ownership undesirable.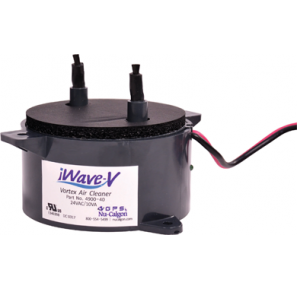 iWave air purifiers have no harmful byproducts, and most models require no ongoing maintenance and have no replacement parts. In fact, with the iWave-R's patent-pending self-cleaning design, you can enjoy years of maintenance-free performance.
Nu-Calgon offers a three-year limited warranty on iWave products. For a valid warranty claim within three years, proof of purchase and proof of installation by a licensed HVAC or electrical contractor must be provided. See full warranty for complete details.
iWave Features
Proven technology – over 200,000 installations
Actively purify the whole house!
Kill mold, bacteria and viruses
Reduce allergens, odors, smoke and particles
Maintenance free (iWave-R, iWave-C)
No replacement parts – total cost of ownership is less than other options
Self-cleaning design (iWave-R, iWave-C)
Can be wired so you know it is always working (iWave-R, iWave-C)
Installs in any air conditioning or heating system
UL and cUL approved
Three-year warranty*